It's hopefully become pretty apparent to the readers of my blog by now, that I love dogs! and I know I'm not alone in that! I've recently come back to my family home and that means, visiting the love of my life; my dog, Lottie! Lottie is a Jack Russell Terrier and she's 10 years old, meaning she's been with me for just shy of half of my entire life, so it's safe to say, I love her a lot, she's even laying next to me as I write this post! Being home with my dog again inspired me to write this list.
I also grew up watching a lot of dog films which fueled my love of the animal even more, so enjoy reading all about my favourite dogs in film and tv!
Beethoven
To kick off this list we have heavyweight (literally, his breed generally weigh between 64 – 120 kg!) Beethoven! Found in his own film; Beethoven and all 7! of it's sequels, I believe I've only seen the first and second installments to this film series, I think my sisters have seen a couple more though. I remember loving the second film because; puppies!! That's right, everybody's favourite St. Bernard has puppies in the second film! Sorry if you were trying to avoid spoilers for a film that came out in 1993…
Lady
I expect this to be one of many Disney dogs to make this list, Lady and the Tramp was one of my favourites as a child. Fun fact: My whole life I was under the impression that Lady was a Cavalier King Charles Spaniel, when in fact she's actually based on a Cocker Spaniel! Which makes total sense now that I look at it, I choose Lady over the other dogs in Lady and the Tramp (eg: Tramp, Trusty, Jock, etc.) simply because; look how pretty she is! In the sequel to Lady and Tramp; Lady and the Tramp 2: Scamp's Adventure the plot is focused on Lady and Tramp's puppies that are seen at the end of the first film and they're sooooo cute! I wanted to add them to this list but I'm trying to keep it to one dog per film.
Max
I know what you're thinking, but which Max! there are many dogs called Max in many different films but if you haven't noticed the picture above; I'm talking about Max from How The Grinch Stole Christmas! I think Max is a mix breed and he was actually played by 6 different dogs that all looked similar! This loyal pooch accompanies The Grinch on all of his endeavours, sticking by his side throughout. He also puts up with a lot of harassing from The Grinch, what a patient puppy!
Buster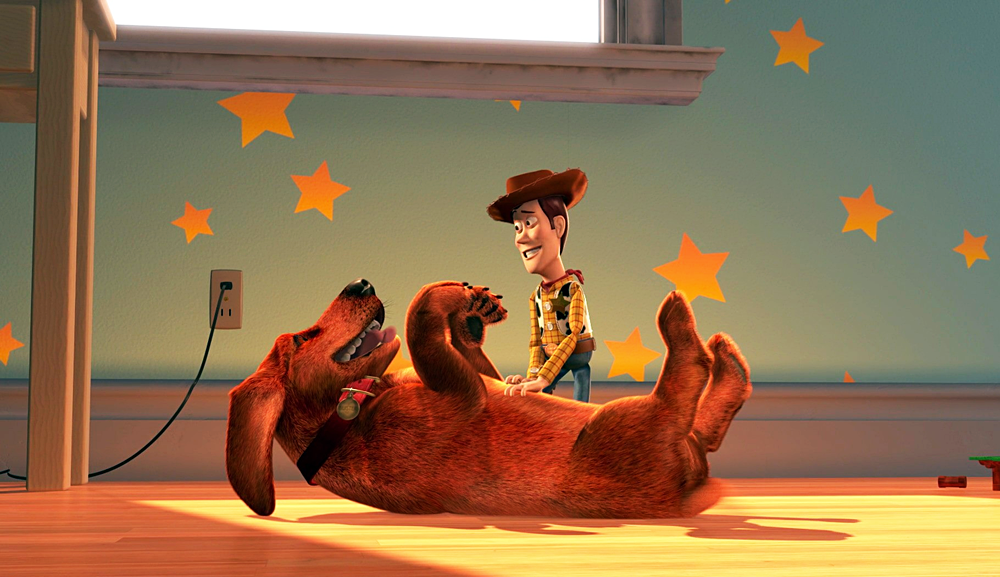 Yet another generic dog name that could apply to many different movie dogs, I am however of course talking about Buster from the Toy Story franchise! Buster is a Dachshund (aka: a sausage dog) and made his first appearance (well first mention) at the end of the first Toy Story film, Buster then goes on to have more of a prominent role in Toy Story 2 and making an adorable old man cameo in Toy Story 3, just over 10 years after his first on camera appearance in Toy Story 2. It's safe to say that Buster really is a toy's best friend!
Oddball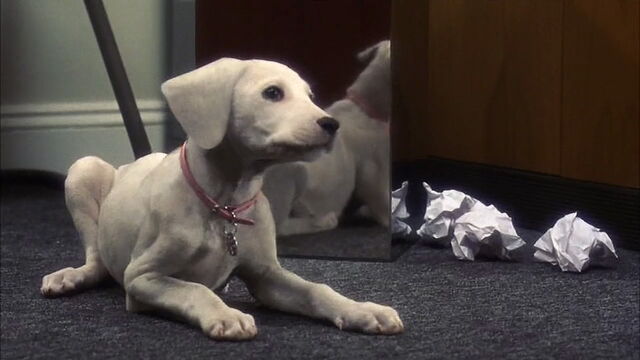 I've mentioned this adorable little pupper many times before on this blog and it's because she's one of my favourite characters of all time! You can find Oddball in the sequel to Disney's live action 101 Dalmatians film (1996); 102 Dalmatians (2000) and yes, she is in fact; a Dalmatian! She just doesn't have her spots yet, which is a sub plot to the film. Other than the odd video game, Oddball doesn't make a an appearance in any other Disney Dalmatians product, which is a shame but it also makes her character that little bit more unique. I think I mentioned in My Favourite Live Action Films how for my 7th or 8th birthday party I had a fancy dress party and my mum made an Oddball costume for me, that's how dedicated I am to this character.
Scooby-Doo
I know I've said this a lot already but Scooby-Doo really was a big part of my life growing up, whether it's through cartoons, movies, video games or toys! The Scooby-Doo franchise has had many re-imaginings over the years and if I had to pick a favourite it would probably be the What's New Scooby-Doo tv series that aired from 2002-2006, I remember watching it every day at around 5pm whilst eating my dinner on a picnic blanket, aww those were the days. Still to this day, I try and find time to watch the odd old episode, for nostalgia's sake.
Nevins
Nevins can be found in The Cat in The Hat, he belongs to the Walden family and is a terrier mix who has a habit of escaping the house. Much like Max in The Grinch (another live action Dr. Seuss film) Nevins was played by 4 different dogs! (A usual thing for dogs in Hollywood) As a kid, I really wanted a dog that was exactly like Nevins but as he's a mix breed, it would have been pretty difficult to find an exact double. I even went through a phase – like most kids do – where every plush dog, every dog figurine, etc. I had, I decided to name Nevins; for a little while at least.
Rowlf The Dog
Rowlf, is instantly recognisable as a member of The Muppets. I would say what breed he is but I literally have no idea, I'd guess that he's based on some kind of mixed breed but who knows! Rowlf can be found in pretty much any Muppets production from Muppet TV shows to Muppet movies, he's a talented one of the group and has the role of pianist at the Muppet theatre. Generally laid back, Rowlf is also known for making wise cracks in whatever he appears in.
Pongo
That's right, another Disney dog AND another Dalmatian, this time though from Disney's 101 Dalmatians. If you've only ever seen one breed of dog your entire life or don't know about any other breeds, Pongo is a Dalmatian and is the father to 15 puppies and 84 adopted puppies. If it isn't already obvious by now, my favourite breed of dog is the Dalmatian so it's not wonder the breed has made an appearance on this list twice! I promise there won't be any more after this one. Pongo makes appearances in Disney's animated film 101 Dalmatians (1961), Disney's live action adaptation of 101 Dalmatians (1996), 101 Dalmatians 2: Patch's London Adventure (2003) as well as the Disney TV series 101 Dalmatians: The Series (1997-1998) and various other Disney products.
Gromit
Gromit, if you have no idea (or live under a rock) is half of Aardman animation's duo; Wallace and Gromit. There are several animated shorts and movies based on the adventures of these two. Wallace is an inventor who constantly finds himself in trouble, his clumsy nature and eccentric inventions need balancing out by Gromit. Gromit has never spoken a word of dialogue, he communicates only with his eyebrows and body language, Gromit is usually calm and collected and often has to sort all the mishaps out in the end, he also takes pride in his home and can usually be found, repairing small things, preparing dinner or tending to his garden. Gromit is a simple guy and one of my favourites, he's the cheese to Wallace's cracker.
Spike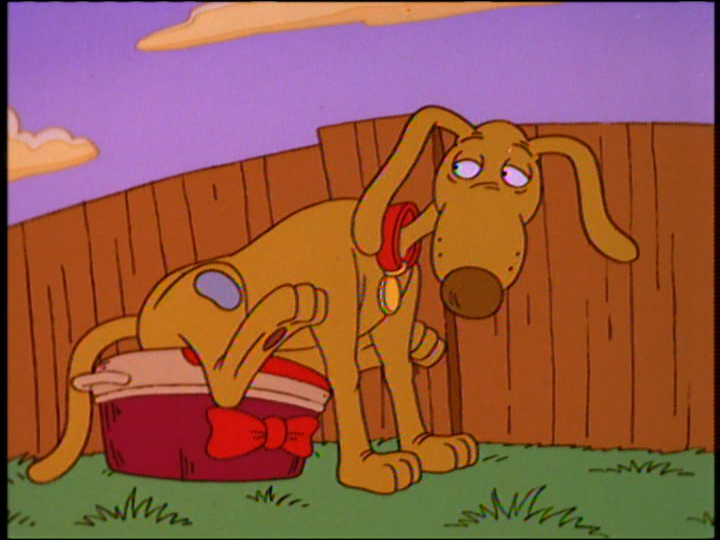 Yet another lovable cartoon hound, this time Spike from everyone's favourite; Rugrats! Spike can be found pretty much throughout all of the Rugrats TV series (1991 – 2003) as well as in all 3 of the Rugrats movies; The Rugrats Movie (1998), Rugrats in Paris (2000) & in The Wild Thornberry's crossover film; Rugrats Go Wild (2003) as well as the Rugrats spin off TV series All Grown Up! (2003 – 2008) and various Rugrats video games, phew! that's a lot of Rugrats productions! Spike belongs to the Pickles family and is always on hand to help/or hinder Tommy and his friend's adventures. Spike is apparently a Siberian Tiger Hound, a breed that I had never heard of until now, I did google search the breed though and the first few results do resemble Spike! but once again the breed is exaggerated for cartoons.
Goofy & Max Goof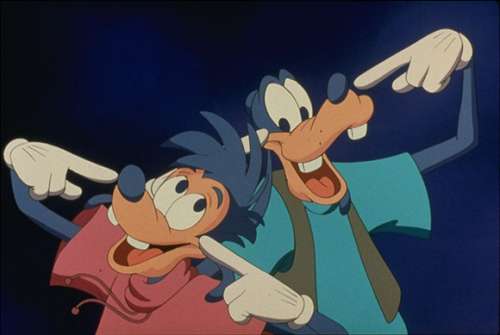 The last of the Disney Dogs on this list (I swear) and the first double entry; Goofy and Max. Similar to Rowlf, I can't name exactly what breed Goofy and Max are, but I like to think that they're based on bloodhounds; perhaps with over exaggerated anthropomorphic features, they're just original caricatures based on dogs. For those of you who don't know, Goofy is part of Disney's Mickey Mouse gang along with Mickey, Minnie, Donald, Daisy and Pluto; and Max is Goofy's son! Max was first seen in the Disney TV series; Goof Troop back in 1992, he then appeared in two films with Goofy; A Goofy Movie (1995) and an Extremely Goofy Movie (2000) Max has since appeared in various Disney productions over the years.
Courage
Similar to Max and Goofy, Courage's design is based on a dog with exaggerated features, some believe that he's a mutt (a mix of multiple breeds) However, I think he's a Jack Russell Terrier, he's small and has similar markings on his back like my Jack Russell Terrier's do. Courage comes from the Cartoon Network show; Courage The Cowardly Dog (1999), Courage lives with his owners Muriel and Eustace in a small town called Nowhere, which is literally in the middle of nowhere, Courage (despite his name) is a very frightened dog and constantly comes into contact with the paranormal and mysterious, Courage tries to face his fears to save his owner from the spooky threat in each episode. I watched this show sometimes as a kid but it kind of frightened me so I didn't start watching it properly until later life.
And so completes my list of my favourite dogs in film and tv, I wish I could write about even more but I'm pushed for time as it is. For those of you who haven't noticed yet, I try to write a regular blog post in the week and review a small studio animated film at the weekend so I've tried to get this blog post out before the weekend (2 days before still counts right?) Let me know if we have any of the same favourites or if any of you have dogs named after movie/tv dogs!