Seeing as International Women's day is on its way (8th March) I thought I'd take the time to compile a list of my favourite female characters in film, TV and video games. I was going to number this list but I found it too hard to decide on a top spot so this is in no particular order.
Possible Spoiler Warning
Korra – The Legend of Korra
Where do I even begin to begin on this wonderful, wonderful franchise. I was a fan of Avatar: The Last AirBender but even more of a fan of The Legend of Korra, perhaps it was it's more mature content or it's gripping drama but one thing is for sure, Korra is an amazing character. (ps. my other favourite characters in this series are Bolin, Kai, Opal and Jinora, I wish I could add them all to this list)
Korra starts out the series a bit arrogant and heavy handed, she feels that she is at the best she could possibly be even though she has only learnt 3/4 of the elements, she then however grows and matures as a character learning that there's more to bending the elements than just being forceful. Korra's design is so lovely to see, she is a muscular girl with a power stance and curves. She is constantly tough and always ready to protect the things that matter to her, not only does she have all these qualities, she also has a pretty nice girlfriend! I can't thank Michael Dante DiMartino and Bryan Konietzko for this character.
Nani – Lilo & Stitch
Another inspirational character on this list; Nani. It's weird to think that in Lilo & Stitch, Nani is the sole breadwinner of her house, it's just her and Lilo and until Stitch and the others turn up and she takes care of everything. She tries to balance a full time job,looking after her younger sister, maintaining the house, oh and she's only 19 years old.
Nani is also one of my favourites as she has one of my favourite figures on a Disney character and I have Lilo and Stitch creator; Chris Sanders to thank for that. I love how he illustrates women with large legs and tiny torsos, it really helps the illusion that Nani is a keen surfer when she can make the time.
Bee – Bee and Puppycat
what a cute series Bee and Puppycat is! it has some adorable visuals and even more adorable storytelling. I decided to add Bee to this list mostly for her goofy personality, not to mention her floofy hair! Happy go lucky Bee always looks on the bright side, at the start of the series we see Bee loose her job but she refuses to let it get to her when she finds a stray dog…? cat…? Puppycat.
Bee is a hilarious character and she makes this list for being so silly and upbeat, definitely a character I can relate to! She also has a great sense of style in her wardrobe and her apartment design.
Alice – Alice: The Madness Returns
As one of my favourite games, it would be a crime to not add this lady to the list. I love Alice because of her bravery, from what I remember; she returns to Wonderland in order to find out who set fire to her family home resulting in the death of her parents and sister, she also encounters some pretty scary creatures and looks so graceful slicing and dicing them throughout the game. She is also very sassy, coming out with lines such as; "I know their pain. I would assist. But is sanity required for the job?".
I really recommend this game if you're a fan of 3D platformers, with dark themes and pretty scenery (I'm aware at how niche of a category that is)
Holtzmann – Ghostbusters (2016)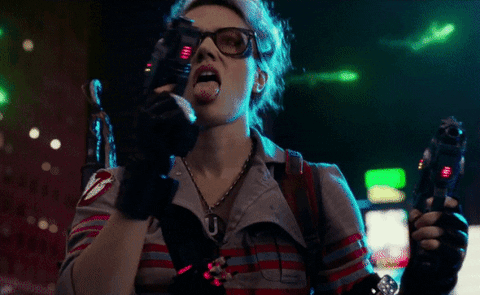 I know this film received a lot of mixed reviews but as a fan of the Ghostbusters reboot, Holtzmann made this list. Holtzmann is the techie of the new group, making all the technical gear that is used to bust ghosts. She is also the weirdo of the group, often spurting out strange lines and doing things at the wrong time eg; eating a can of pringles whilst a ghostly apparition is gliding towards her. She is played by the marvellously funny Kate Mckinnon, who definitely helped shape this hilarious character, She has to be my favourite member of the new Ghostbusters line up.
Sailor Mercury – Sailor Moon 
As much as I love all the sailor scouts for their own reasons, I have a soft spot for Sailor Mercury. Just as Holtzmann is the techie of her group, Sailor Mercury is the brains of her's, as well as being the pretty soldier in a sailor suit, she is also a straight A student at school who is always revising and helping others to learn. Mercury is my favourite due to her restrained nature, although she kicks evil butt on a daily basis, she is actually a rather shy, quiet girl with a kind, fair heart. She's always there to help pick her friends up when they're down and manages to meet those deadlines early.
Clementine – The Eternal Sunshine of the Spotless Mind
The Eternal Sunshine of the Spotless Mind is one of my favourite films, period. I've heard from a few people that I remind them of Clementine, I'm hoping it's from the varied hair colours and spontaneity rather than argumentative side of her but I'll take what I can get. I love her attitude to life, as she once said; "I'm always anxious thinking I'm not living life to the fullest" I find this film so comforting and I find myself relating to Clementine and not just because we've had a couple of the same hair colours.
Violet Parr – The Incredibles
If you've read some of my previous blog posts, you know that I actually have a tattoo of Violet on my inner arm as she has been my favourite character for quite a long time. I remember being able to relate to her from the young age of 8 years old. Brad Bird did such a good job at encompassing a teenage girl into her character, she's an accurate representation without cheesy dialogue! I'm also a fan of how Sarah Vowell voices her, I'm pretty sure I can quote this film word by word.
The Powerpuff Girls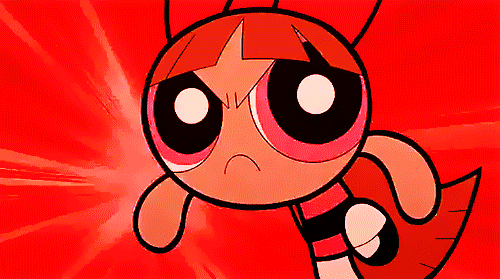 Technically, this is three entries in one but let it slide okay? I've been a fan of these three since I was three years old! These pint sized heroes literally save the world all before bedtime, I'm pretty sure anyone that watched this as a kid who had siblings had a role each, I remember I took on the role of Blossom because I was the oldest (and apparently the bossiest…) and my sisters took on Buttercup and Bubbles, luckily there's only three of us otherwise someone would have to be Princess Morbucks! I love this cartoon as it taught me back in 1998 that girls can be kick-ass too, even as kindergarteners.
Kat Stratford – 10 Things I Hate About You
What a great film 10 Things I Hate About You is, it combines some of my favourite things; Poetry, "angry girl music of the indie rock persuasion" and Joseph Gordon Levitt. But seriously, you can't help but love the tempestuous main character; Kat Stratford, she doesn't let anyone take advantage of her due to people doing so in the past so she comes off cold and hard to approach but she's just looking out for herself, as you see throughout the film she begins to open up and be lets say, less cranky. Lets talk about the famous scene where Kat reads out her 10 Things poem, is it only me that learnt the entire thing off by heart? yeah, I thought so…
Namine – The Kingdom Hearts Series
(prononced like NAM-IH-NAY or NAR-MI-NAY) It would be a crime if I didn't have a Kingdom Hearts lady on this list… the problem is the lack of them, sort it out Square! but Namine is my favourite. Kingdom Hearts 2 has to be my favourite instalment so far and Namine has an important part to play in it, she also has a lovely simplistic white room in an old abandoned mansion that really influences my interior design choices. Namine has a sweet nature and is softly spoken, she has the power to control the main protagonist of Kingdom Hearts; Sora's memories and she does so by drawing them out in a sketch book. Namine also has a strong, determined side which is proven when she comes to the rescue of Kairi in Kingdom Hearts 2.
Maria – The Book of Life
Now, I've only seen The Book of Life 1 or 2 times so I can't remember every detail. I do remember however that Maria Posada is a tough lady who don't need no man! As a child she is often seen running a muck in the town square of where she lives; San Ángel, México with her best friends Manolo and Joaquín who are constantly fighting for her affection. She is  sent away to study with nuns in Spain in order to fix her rebellious personality. She returns 10 years later with a every man fawning over her to which she dismisses every one.
I love Maria because of her feisty personality, she won't be treated any less than she deserves and she is fiercely independent and is also incredibly skilled in things such as fencing, painting and poetry. She is a very well rounded character, beautifully written by Jorge R. Gutierrez who reportedly based Maria off his wife; Sandra.
Max Caulfield – Life is Strange
In someways I relate to Max, apart from the fact I can't rewind time. I chose Max over Chloe as I prefer Max's gentle, kind, arty nature, over Chloe's anarchic, fierce, rebellious nature, not that Max is a pushover (if you choose the right options that is) She's just slightly more laid back and looks at a situation before diving into it as Chloe does. I also love how she sees beauty in every day life, hence all the polaroids she takes.
Ellie Sattler – Jurassic Park
Ellie Sattler is on my list of what to cosplay, I think it would be so fun marching around in a pink blouse with a raptor under my arm! I chose Ellie for this list as she seems to be one of the only main female characters in the first Jurassic Park film! (along side Lex of course) but she isn't playing the damsel in distress generic female character, don't you worry. She is often seen getting herself elbow deep in Stegosaurus feces and fighting off dinos like the rest of the characters.
Astrid – How To Train Your Dragon
I know I've said this a lot in this list but Astrid really is a tough girl, she's only 15 in the first HTTYD film and she's the toughest kid on the island of Berk, she won't take any nonsense from anyone, she's determined to be the best whether its killing dragons, training them or even in a game of dragon racing. Although she is charmed by fellow viking Hiccup, this does nothing to calm down her passion and drive. I love the How To Train Your Dragon franchise and although my favourite character(s) in the franchise are actually Ruffnut & Tuffnut, I had to choose Astrid as to me, she's a true feminist icon for vikings.
Kim Possible
Balancing school work, a teenage social life, cheer leading and saving the world every chance she gets, is there anything Kim Possible can't do?! This sassy red head made it onto this list as she was the coolest character I knew growing up, I don't think I've ever managed to forget the theme song to this show (but why would I want to?) she set incredibly high standards for every 16 year old at the time, I'm 4 years older than Kim Possible yet I can't even manage to balance basic household chores and eating, I mean where did I go wrong?!
Leia Organa – Star Wars
You didn't think I'd write this list and not include Princess Leia did you?! Just like Ellie Sattler, Leia is one of the only female characters in the original Star Wars trilogy – It looks however that that's about to change with the two latest Star Wars films featuring female leads- but again, this does not make her in anyway a damsel in distress. Leia can handle herself and is pretty handy with a blaster, she will not be pushed around without a fight and will always do what she believes is right. Leia made this list because this list wouldn't be complete without her.
Star Butterfly – Star vs. The Forces of Evil
Although a fairly new series to hit Disney Channel, Star vs. The Forces of Evil has made it's way into my heart. The series centres around a magical princess from another dimension who loves fighting monsters; Star. Who is sent to earth as almost a placement year abroad to practice magic. Star is one of my favourite characters around at the moment as (like an earlier entry on this list; Bee) she is so goofy, she's clumsy, she's messy, she never thinks things through but luckily she has her best friend and housemate Marco Diaz to help clean up her messes. I love Star a she is so silly and it's so nice to see more goofy female characters in modern cartoons. Thanks show creator; Daron Nefcy.
Frankie – Fosters Home For Imaginary Friends 
I know I've said this before… and I know I'll say it again… but I have a tattoo from Fosters Home For Imaginary Friends too, so this show has a very very special place in my heart. One of the stand out characters for me alongside all the crazy imaginary friends is Foster's caretaker; Frankie. Granddaughter of Foster's founder; Madame Foster, this feisty redhead is not to be messed with, although so kind and loving, she won't be taken for granted nor will she let anything bad happen to the residents of Fosters. She also just happens to be voiced by my favourite voice actress; Grey DeLisle. (follow this link to her IMDB I can guarantee she's voiced at least one character from your childhood)
Sheeta – Laputa: Castle in the Sky
Shockingly, I only have one Ghibli girl on this list and it's Sheeta from Laputa: Castle in the Sky! I chose Sheeta for a number of reasons but the main one being because of one of the later scenes in the movie where Muska literally uses a gun to shoot off Sheeta's plaits and she just stands there, barely flinching, what a badass. She is also a very clever, gentle girl that goes through an awful lot from being kidnapped by Muska,  then kidnapped by pirates then falling through the sky to then be on the run from Muska and pirates, what a tough lady!
Azula – Avatar: The Last Airbender
I know I've already mentioned a character from this franchise before but how cool is Azula from Avatar? Terrifying too but that's what I love about her, fierce, strong and independent. As well as merciless, terrifying and a little psychotic. Azula is one of the main villains of this series and I know I should have Toph and Katara on this list too as they are also amazingly strong girls but I just love Azula, maybe it's because she is also voiced by Grey DeLisle who I mentioned previously? or maybe Grey is just great at voicing screechy characters.
Wednesday Addams – The Addams Family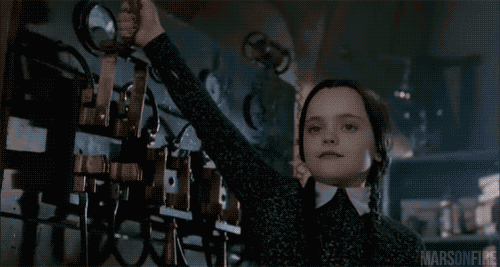 Now I love almost every version of The Addams Family, from the 1964 live action TV series, the 90's cartoon and the 90's live action movies (in fact, I'm sure you saw this coming but I also have a tattoo of Wednesday on my arm too, I'm going for an arm full of my favourite women from film & tv) My favourite version however has to be the 90's live action movie as it's the one I saw first as a child! (it's also the Christina Ricci version of Wednesday that I have tattooed) Wednesday has to be my favourite character as she's clever, cunning and witty, even as a child! I fell in love with the character as a child as I thought Wednesday's dark interests were hilarious, her obsession with the Bermuda Triangle, the fact she makes an electric chair for her brother; Pugsley to sit in and how she carries around a bottle of poison to drink.
Megara – Hercules 
My favourite Disney character (along side Nani) has to be Meg, Hercules is in my top 5 favourite Disney films! I love Megara as she's super sassy, super independent and looks like a pillar? but seriously I'm a big fan of the tiny waist, curvy hips and bust look that a few of the characters on this list have. She's also pretty selfless sacrificing herself for Hercules when a giant pillar is about to fall on him towards the end of the movie, I'm just thinking now though Hercules can take a lot, he has god like strength, if a giant pillar was to fall on him surely it wouldn't be that big of a deal? He could just shrug it off! None the less though, Meg makes this list.
Eep – The Croods
Another Chris Sanders creation, Eep from The Croods is amazing. Not only does she have the standard Sanders style of large calves, large hips and little waist, She also has huge fluffy hair!! that I ADORE. She is also pretty strong as she can pick up her new found love interest; fellow caveman Guy and throw him over her shoulder. She's also a master of Parkour as she can easily glide through cracks in cliffs and over large boulders, I also love her adorable face freckles, you can really tell that she's modelled after the actress that voices her; Emma Stone.
Coraline
As one of my favourite films of all time, based on one of my favourite books of all time and voiced by one of my favourite actresses of all time (Dakota Fanning), it's safe to say that Coraline was going to be on this list. Yet another feisty young girl who is determined to save the ones she loves, Coraline along with Korra, develops as a character throughout her film; she starts out the film as a bit of a brat who is upset because she has to move house far away from where she lives, as an only child with busy working parents, Coraline spends the first few days at her new house exploring when she finds a door to another dimension, it's her life but exactly how she wants it to be, which seems great until things start to turn sinister and she is forced to fight her way back to her dimension and save her parents. Coraline is a brave young girl who deals with some pretty scary stuff, I don't envy what she has to go through at all.
Mabel – Gravity Falls
Mabel, sweet, sweet Mabel. What can I say I like about Mabel? lets say; her adorable themed jumpers that i'm convinced she makes herself, her upbeat positive personality, her blissful ignorance to people being mean to her, her loving nature, the fact she once bedazzeled her own face, her pet pig Waddles, her scrap booking skills, her voice actress. Yep, that should about do it.
Tina Belcher – Bob's Burgers
I know almost everyone's favourite Belcher child from Bob's Burgers is Tina and she has become so many people's spirit animals as of late and usually I'd shy away from a popular character but Tina is a treasure, whether she's writing erotic zombie fanfiction, practising her sexy hair flip or fantasising about Jimmy Jr's butt, Tina reflects all of us in one way or another. I find Tina one of the funniest characters in Bob's Burgers and I hope she never changes but as Tina herself would say; "I'm no hero. I put my bra on one boob at a time, just like everyone else."
Velma – Scooby Doo Franchise 
There have been many, many, MANY different versions of Velma over the years and she's actually not my favourite Scooby Doo character, that title actually goes to Daphne, however I believe that Velma should be on this list as she really is the heart of Mystery Inc. not only is she the one who usually adds up who the masked villain is, she also helps come up with traps and does tones of research before hand! without Velma, the gang would be nothing! My favourite depictions of Velma include: the live action movies (2002 – 2004),  the What's New Scooby Doo animated TV series (2002-2006) and the animated movies that were released between 1998-2001 and included; Scooby-Doo on Zombie Island, Scooby-Doo and the Witches Ghost, Scooby-Doo and the Alien Invaders and Scooby-Doo and the Cyber Chase.
Thank you so much for getting through this entire list, I know it's long, I really wanted to add even more characters to this list but I feel like this is long enough, maybe one day I'll do a part two! but this took me long enough to write as it is. Do note that a few of the characters on here are on here as I like them and could write a lot about them however they're not necessarily my favourite character in the film/tv show/game that they're from, I just wanted to make a list of great female characters. Let me know your favourite female characters! I hope to write more of these type of posts in the future.